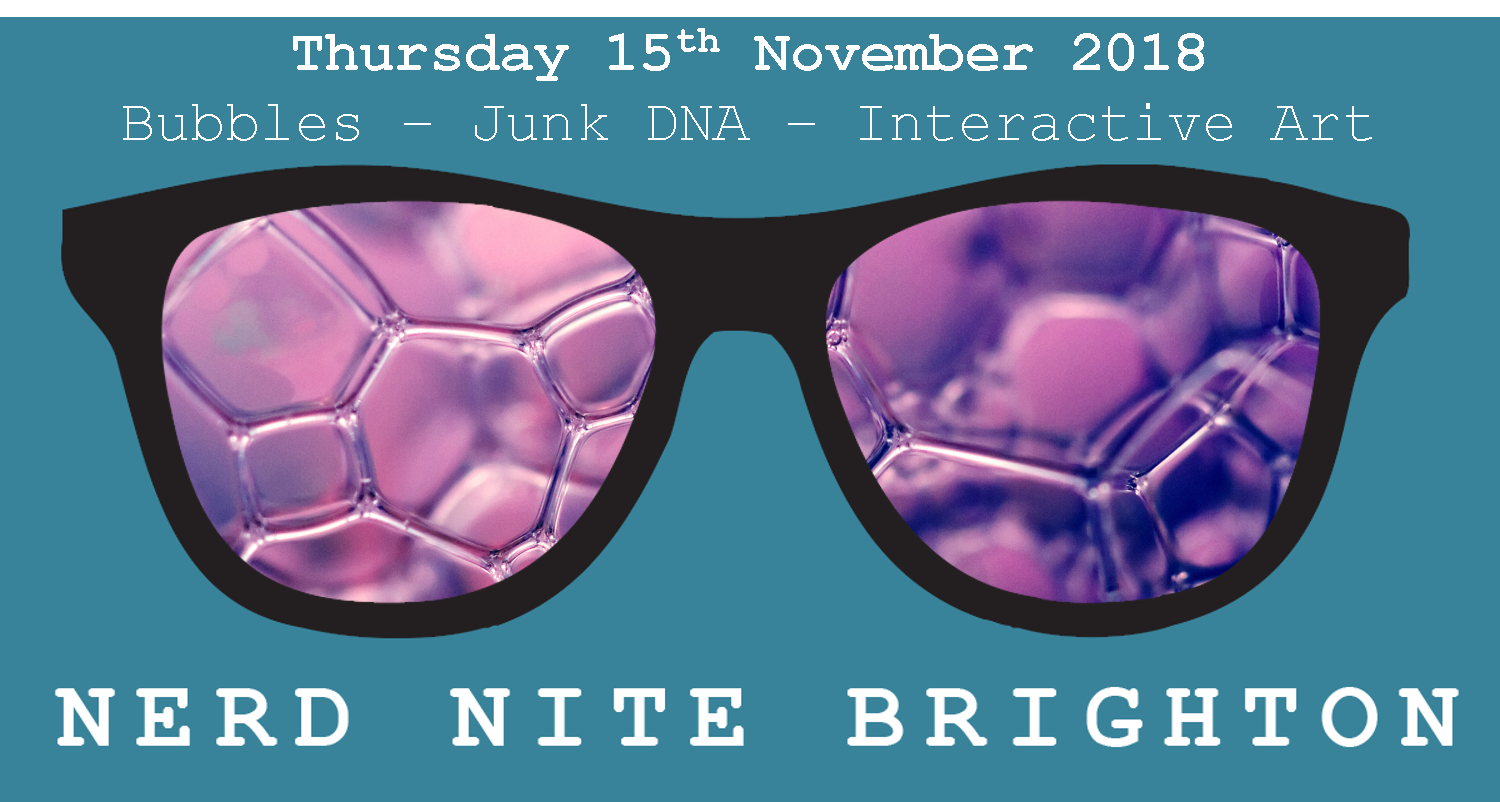 Tickets on sale from Rialto Theatre
The last Nerd Nite of 2018. Come along and learn about soap bubbles, junk DNA and interactive art. With the usual nerd news, nerd quiz AND free cake.
Doors open 7.30pm for 8pm start.
Venue: Rialto Theatre.
Our speakers this month:
Dr. Filippo Cagnetti: Soap bubble and mathematics.
Filippo graduated in Theoretical Physics at "La Sapienza" University (Rome) in 2003 and obtained his PhD in Applied Mathematics at SISSA (Trieste) in 2007.
He enjoys very much both researching and teaching mathematics.
He has worked at Carnegie Mellon University (Pittsburgh), Instituto Superior Técnico (Lisbon), and University of Texas (Austin).
He has been a member of the mathematics department at the University of Sussex since 2013, and he loves living in Brighton.
Dr. Alex Bousios: Most of our DNA is junk – but hugely important in the function and evolution of species.
Alex received his PhD in molecular biology in 2009 from the University of Sussex. After a few years in Greece, he returned to Sussex in 2013, where he has now established his own research group as a Royal Society Research Fellow. His research investigates the evolution of plant genomes with a focus on its most abundant component, the fascinating transposable elements.
Dr. Cécile Chevalier: Playing and Audience experience in Interactive Art Systems.
Cécile Chevalier is an artist and Lecturer in Digital Art. She works with art installation and instrument making to explore forms of digital cultural transformation in relation to embodiment-technologies, performativity and performance. Her background is in Fine Art, Crafts & Design and Media Studies, while her current artworks and investigations draw from an interdisciplinary practices between conceptual and computational art and participatory/play theory. Cécile will draw from her collaborative artworks to discuss play theory in relation to Interactive Art Systems and instruments.
Hosted by Dr. Mick Taylor
£4 Regular Nerds
£3 Unemployed/NUS/65+ Nerds
We regularly sell out- so if you buy a ticket you can't use, please let us know on the Facebook page so we can ensure disorganised nerds who forgot to buy a ticket in time can still come.